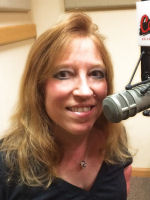 Favorite foods: Asian, Mexican, Italian, and anything with fresh veggies!
Hobbies: Concerts, travel, and meeting new people.
Worst Habit: Dachshund collecting!
Paula was born in Washington, D.C. and graduated high school in 1987!. She's been on Delmarva since 1994 and loves the lifestyle and pace on the shore.
Paula is happily married with 2 cats and 2 dogs. Everybody gets along great!
Paula has a box at home stuffed with over 400 concert ticket stubs, you guessed it, she's a huge music fan and goes to see live shows whenever possible. Her all-time favorites include Steve Vai, Live, Lenny Kravitz, Metallica, The Stones, Doors, Jimi Hendrix, the Red Hot Chili Peppers, and many more.
The Pets who have no voice. Well, they have barks and meows, but can't speak for themselves when they need help after a natural disaster like the hurricanes of late. Here's an organization that really helps the animals. Check them out and see if this might be a good option for you if you are…… Continue Reading